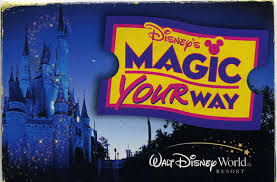 Ticket Options
There are many different types of tickets. It can seem confusing at first, but read the descriptions below and you should have a pretty good grasp on the different options.
One Park a Day
Just like it sounds. You can go into one park per day. You can visit that same park multiple times during the day, though. So you can visit in the morning, leave and then come back to the same park later the same day.
Park Hopper
Park Hopper allows you to visit any of the 4 main theme parks as many times as you wish on any given day. You can come and go as you please throughout the day. This gives you a huge amount of flexibility.
Water Parks & More
Water Parks & More gives you access to the water parks throughout your stay. Once for each day of your ticket. You can also play 1 round golf and 1 round of mini-golf.
Disney World Ticket Prices
Prices change often. I suggest always checking the actual Disney World website for the most current pricing information. Here is the link: Disney World Ticket Prices
Which ticket option is best for you?
This is not a simple question to answer. It depends! Below are some scenarios that may help you decide.
Young Family

A young family goes to Disney for a special vacation. They have dedicated 10 days to this trip. They want to take it slow and allow the kids to play at the hotel, and take naps, etc. This family may want to skip parks entirely for a couple days. A one-park-per day ticket would probably be fine for them. They could get up early, go to a park and get on some rides while the park isn't too crowded. Have lunch in the park, then do a few more things and then head back to the hotel. That amount of park time may be enough for the day. They can spend the rest of the day by the pool at the hotel, having dinner, running over to Downtown Disney or just getting to bed early. Another option that's fun for the little ones is the water parks. You can either pay the one day cost to go to one, or get the Water Parks & More add-on. There are kids areas at the parks, which make the water parks fun for all ages.
Teenagers!

If teens are involved, you're going to want the hopper pass! They will probably want to run around and see as much as possible. You may also want to get the Water Parks & more option. You'll get your money's worth with teens. They typically want to see it all, do it all. They will enjoy the water parks, and all the theme parks. A typical day when my kids were teens. Get up early, go to a park and hit all the popular rides. Grab a quick snack or meal, then do a few more things. Early afternoon we would hop on Disney transportation to head back to the hotel. We were able to get in an afternoon shower/short rest at the hotel and then we were out again for the evening, at usually a different park. Tiring yes, but the park hopper option allows you the freedom to go to as many theme parks in a day as you wish.
Adults

If your group is all adults, you may still want to park hop. I guess it depends on what style of park visitor you are. Do you want to go crazy and see as much as possible? Would you rather relax and take it slow? Either way, its nice to have the option of going to more than one park a day. On our adult trips, we typically do one park in the morning and another later in the day. We break up the day with shopping, relaxing by the pool, visiting other resorts, or having a nice long dinner. There is so much to see and do, you can easily just do one park per day. Some people go to a park in the morning, then take a break and go back to that same park later the same day. That's fun, too. The cost difference isn't huge, but it is more to get the park hopper option. So if you are on a strict budget – skip it! You can always add it later. For example: you buy the one park per day pass, and then half way through your vacation you really wish you had the hopper option. Just go to any ticket window and they will upgrade your ticket.
How many days worth of tickets do I need?
There is no simple answer to this – but if you want to go to parks every day, get tickets for every day. We usually fly in late and leave to fly home early – so I never get tickets for the arrival day or the departure day. You can always add days later. If you decide you really want to go to a park the day that you're leaving, just upgrade your ticket to add another day (but do it the day before, when your ticket is still valid).
Magic Bands!
Magic Bands are wonderful bracelets that allow you to load your tickets on to them, so you can just scan your bracelet and not worry about the paper ticket. Every Disney resort guest will automatically receive a Magic Band, as do Annual Passholders. They come in a variety of colors (you get to choose). In addition to your tickets, you can load your room key, Photopass photos, credit priveleges and your Fast Passes – all onto your Magic Band! Read more HERE.