Speaking of Magical Express – do you know what it is? Its a fabulous transportation service that takes you and your luggage to/from the Orlando Airport to your on-site Disney resort (not available for Swan & Dolphin or Shades of Green).  This service is included with any Disney resort stay.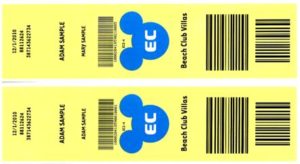 How does it work? You reserve your Disney vacation package, or resort room. Then sign up for the Magical Express service. A few weeks prior to your visit, they send you a yellow tag to put on your luggage. These tags are barcoded for YOU. They have your resort on them, and a colored Mickey head which will determine what bus you go on. You stick these tags on your luggage, Check your luggage normally at your departing airport & then relax. You do not need to retrieve your bags in Orlando. All the luggage with the yellow tags from incoming flights will be gathered by the Magical Express people at the airport (you do not have to do a thing!). Your luggage will be transported to your hotel, and will be delivered right to your room (within approximately 3-4 hours of your arrival).
Ok luggage is taken care of – how do YOU get to the resort? Super easy, too. There are buses waiting for you! All you need to do is go downstairs to the Magical Express desk. Level 1, B side. You should have your magic band that was sent to you – and/or the Magical Express vouchers that came with your yellow tags. Check in at the Magical Express counter and they will direct you to the line for the bus that's going to your resort. These are nice big, comfy buses! Most buses take guest to more than one resort, so you may stop somewhere else first, but you'll be at your temporary Disney home shortly (ride takes about 20-30 minutes)! You may have a wait to get on the bus, but its usually not very long. If you brought any bags with you they will be stored under the bus, and the driver will retrieve them for you. Tips are accepted 🙂
There are some other minor details, read the info that comes with your Magical Express tags for more info. And if you need help, there is a number you can call: 866-599-0951
Now its time to leave, and you need to get back to the Orlando Airport. You will receive the info for your return trip under your door the night before you leave. Read this info! It will give you a time that you must meet your bus to go back to the airport. Do not miss this bus! If you do, you may not be allowed on another bus – you may be forced to pay for a taxi / uber / Lyft car. The resort will also have a Resort Airline Checkin area. If you fly on any of the airlines that allow it, you can check your luggage here. You'll also be able to print out your boarding passes here. Do this in the morning, I think the Resort AIrline Checkin area closes at 12 noon. So check in, store your carry on luggage with Bell Services and find something to entertain yourselves until your bus is scheduled to pick you up.  IF your airline is not one of the ones that allows for the Resort Checkin = simply store your luggage with Bell Services. You can still use the Magical Express Bus, just bring your luggage with you. You will need to check it at the Orlando airport.
Why would Disney go to all this expense / hassle: It's a great idea that Disney came up with a few years back, a super smart idea for them. No need for guests to rent a car – they will pick you and your luggage up from the airport and deliver you and your luggage directly to your Disney resort. Its brilliant, in my opinion, they are making it so that you never leave Disney property. If you had a rental car, you may be more opt to running over to Universal for a day, or to a beach, or even just a restaurant off-site. But without a car, you'll probably just hang around at the parks, your resort or Disney Springs.
I think its a win-win for all involved. We have used it many times and have no complaints!